Stainless steel welded wire mesh is durable and strong, the material wire is rust resistant, corrosion resistant and also anti-chemicals, which could be exposed to corrosion for a long time. Because of its natural properties, stainless steel welded wire mesh need no additional finish procedures to protect it.
Stainless Steel Welded Wire Mesh Specifition:
Surface: stainless steel 201/304/316/304L/316L
Materials: high quality stainless steel wire.
Wire Gauge: BWG 22- BWG12 ( customized with customers' special requirements)
Roll Width: 0.5m-2.5m
Roll Length: 20-30m
Mesh Hole: 1/4", 1/2'', 3/4", 1'',2'', 3'', 4''.
Advantage: Stainless steel welded meshes offer excellent characteristics such as corrosion resistance, oxidation resistance, acid resistance, alkali resistance, aging resistance, sunshine resistance and weather resistance.
Stainless steel welded mesh products enjoys the features of better strength, strong integration, therefore stainless steel welded mesh is not easy to loosen even be cut into parts or exerted force on the parts. The structure of stainless steel welded mesh is strong and firm, therefore this kind of wire mesh has a long service life.
Package: Hot-dipped Galvanized Welded Wire Mesh packed Plastic film or waterproof paper inside and woven bags outside. Perfect package avoid to be damaged and rust during the transportation.
Loading: 1) Neat piling without pallet; 2) Pack in pallet; 3) Special package with customers' request.
Application: Stainless steel welded metal mesh is widely used in industry, agriculture, construction, breeding, transport, mining exploitation, transport, entertainment facilities and other public places. For example, stainless steel welded mesh is used as security or isolation fencing for pedestrians' pavement, transport center and other public places.Stainless steel welded wire mesh panels are also used in horticulture industry as tree guards, plant protection or fence to restrain goat, horse, cow and other livestocks.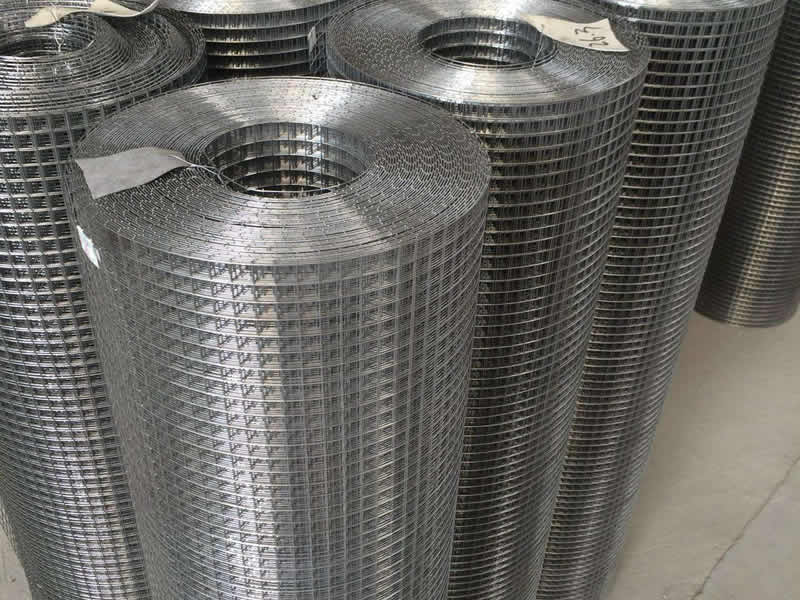 Specification List of Welded Wire Mesh
Opening
Wire Diameter(BWG)
In inch
In metric unit(mm)
1/4" x 1/4"
6.4mm x 6.4mm
22,23,24
3/8" x 3/8"
10.6mm x 10.6mm
19,20,21,22
1/2" x 1/2"
12.7mm x 12.7mm
16,17,18,19,20,21,22,23
5/8" x 5/8"
16mm x 16mm
18,19,20,21,
3/4" x 3/4"
19.1mm x 19.1mm
16,17,18,19,20,21
1" x 1"
25.4mm x 25.4mm
16,17,18,19,20,21
1" x 1/2"
25.4mm x 12.7mm
16,17,18,19,20,21
1-1/2" x 1-1/2"
38mm x 38mm
14,15,16,17,18,19
1" x 2"
25.4mm x 50.8mm
14,15,16
2" x 2"
50.8mm x 50.8mm
12,13,14,15,16